Add to wishlist
Added to wishlist
Removed from wishlist
0
Add to compare
(
5
/
5
)
The RX-7V is the pinnacle of the research, experience and know-how of Arai in Helmet technology. The RX-7V offers a new benchmark in the premium helmet sector with a completely new PB-SNC2 outer shell, the revolutionary VAS ("Variable Axis System") visor system and a significantly increased smoother area around the temples. From the also new anti-microbial material liner with an even slimmer frame, to the new ducts, improved diffuser and integrated Air Channels, each part shows the attention to detail that is so typical of Arai. By learning from real scenarios, Arai has steadily improved the "glancing off" performance.
The RX-7V is closer than ever to the ideal helmet shape, thanks to the new, stronger and smoother shell and VAS. With VAS, the mounting position of the visor is lowered by 24 mm in pursuit of the ideal smoother shape which increases the ability to reduce impact energy transmission. As a result, this has allowed the shell to be completely smooth above the Snell standard test line.
Aria RX7V Vinales
Super quality helmet as you would expect. Great Matt finish looks awesome. Had to knock a star off just due to the new visor system! Takes longer and more fiddley to change than the older model which literally pulled straight out and pushed straight back in. Also to fiddley to raise up, which is a pain around town, as it locks into the closed position. There is a catch on the visor which needs pulling out and then the visor pushes up, this can be hard to do with thick gloves! But still the best helmets out there. Just address the visor please Arai. Clive W SBS Customer
Ultimate comfort with safety
Exactly what you would expect from an Arai, perfect fit, ventilation, safety with style. Light weight and perfect finish from padding to paint. Victoria H, SBS customer
Back to an Arai RX7
After a daliance with an X-lite 802R, I am back using an Arai RX7. Arais just fit my head better. Good points: fit, ventilation, peripheral vision. Not so good: weight, noise, ease of visor change. It remains to be seen whether or not the new centre-top vent design is any better than the old one, which used to admit live insects into the hemet lining and was a bitch to clean. Anon, SBS Customer
Not rated yet by our team...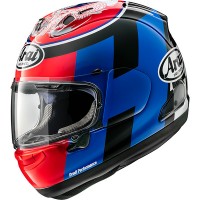 Specification :
Arai RX-7V
Discontinued
Size

XS

S

M

L

XL

XXL

Retention System
Weight, g

1560

Shell Material
Removable lining
Warranty, years

5

Drop down sun visor
Anti Fog Visor

N

Pinlock ready
Manufacturer Website

http://www.araihelmet-europe.com/
Featured Reviews:
Arai RX-7V
No reviews yet...
Price history for Arai RX-7V

Latest updates:

499.98 - 9th February 2021
579.99 - 17th December 2020

Since: 17th December 2020

Highest Price: 579.99 - 17th December 2020
Lowest Price: 499.98 - 9th February 2021