Add to wishlist
Added to wishlist
Removed from wishlist
0
Add to compare
SHARP Rating:
AGV Compact ST
(
4
/
5
)
Key Features:
AGV Compact ST
Retention
Micrometric adjustment
For and Against:
AGV Compact ST
We've scoured the internet for owner's reviews and these are the key things they like and don't like about the AGV Compact ST.
FOR:
Secure chin bar lock
Comfortable
AGAINST:
Only one shell size
No cut-out for glasses wearers
Chin bar lock is tight at first
Description:
AGV Compact ST
Taking the modular-helmet concept to the next level, the Compact ST has been approved in both closed and open positions and its compact design when aerodynamic performance is surprisingly capable in the latter configuration. There's an internal drop-down sun visor, and the new interior is built with high-tech fabrics and carefully arranged stitching for optimum comfort. The ultimate in adaptability, this helmet is equally appropriate for city and out-of-town riding.
AGV – Not Very Compact
Very well built from a reputable brand. Comfy and functional but with one very obvious problem. There is only one shell size, meaning my 'small' size head is accomidated in a shell to fit an XL. I looked like a basketball on a toothpick! Would not recommned for anyone sized medium or below.
Sven SportsBikeShop customer
Good Buy!
I bought the AGV Numo (the USA name for the Compact) after quite a bit of research and so far the helmet has been flawless. Highlights are styling, the ratcheting chin strap, fit and finish and comfort. Drawbacks are marginal airflow, difficulty operating the chinbar release while not wearing the helmet (it's fine with the helmet on), location of the helmet lock ring makes it tough to lock it to my bike, and noise.
The helmet is rated and regarded as being heavy, but I havent experienced any problems with that. After 3-400 miles of riding my ears are ringing, so I started wearing earplugs. Problem solved and earplugs are probably a good idea no matter what helmet you have anyway. They say the helmet is Pinlock capable, so far i haven't found a Pinlock shield. The helmet was a little uncomfortable at first but has broken in wonderfully. It now fits me like a glove and is very comfortable. I would definitely buy this helmet again and have no problem recommending you do too!
Steven B, RevZilla
Great product from a trusted manufacturer
A comfortable fit right from the start. All the catches and levers are easy to find and use with gloves on. The chin bar lock is positive and easy to use, unlike some. Some people complain about wind noise, but I have found it to be no worse than the old Caberg Duke I was wearing. All flip fronts tend to be noisier because of the join.
Once on, there are no annoying drafts, because of the padding all round. The only downsides are the chin bar release catch which is a bit stiff, but will probably wear in. The chin strap could do with being a bit longer, and glasses don't slide in to the sides too easily. Other than these relatively little problems, this is a good, solidly built helmet from a tried and trusted manufacturer. Chris F, SportsBikeShop customer
Not rated yet by our team...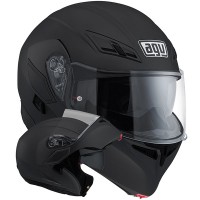 Specification :
AGV Compact ST
Discontinued
Size

XS

S

M

L

XL

Retention System
Weight, g

1780

Shell Material
Removable lining
Warranty, years

2

Drop down sun visor
Anti Fog Visor

Y

Manufacturer Website

http://www.agv.com/
Featured Reviews:
AGV Compact ST
No reviews yet...
2 reviews for
AGV Compact ST