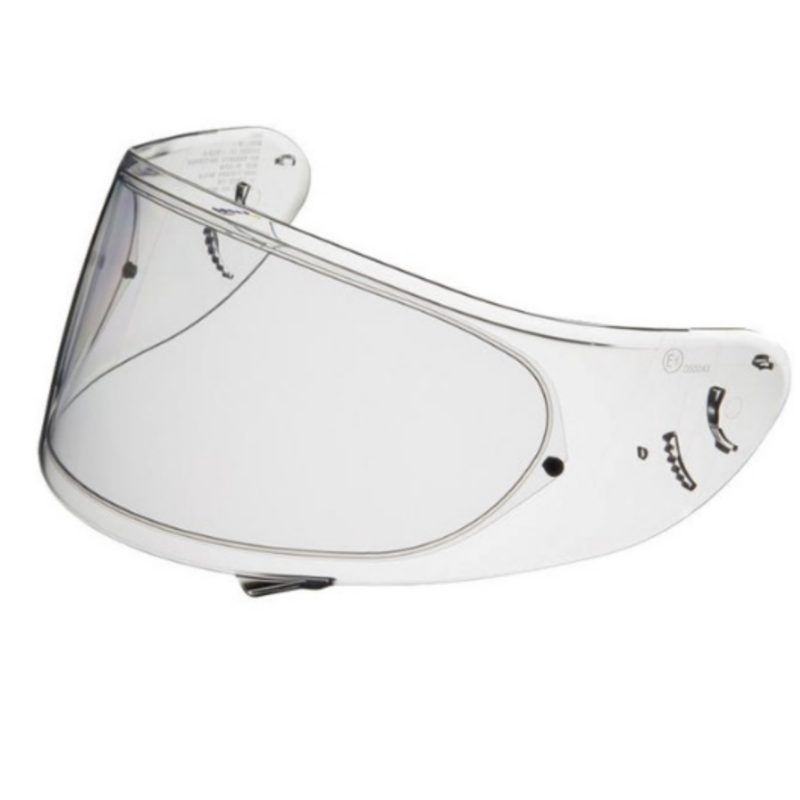 When the weather turns cold and wet, every motorcyclist can tell you condensation is a problem. The cold air from the outside meeting the warmer temperature of your full face helmet causes condensation build-up resulting in an obscured view. A lot of full face helmets come with vents which help draw air through the helmet which removes moisture and also means the temperature inside the helmet is closer to the temperature outside, reducing fogging. In turn, this should help demist you. If this isn't working, you could always try the old "lifting your visor" trick, but this is a fairly blunt approach. The increased cold air will make your eyes stream, your nose run and let water in if it's raining. So how can you guarantee a fog-free trip? By using an anti-fog treatment, like the Pinlock Visor System.
Thought up by English inventor, Derek Arnold while participating in the TT Circuit in Assen; the Pinlock System was put into motion. He wanted to make sure there was a sure-fire way to eliminate the risk of condensation.
If you've ever been to Assen, you'll know you can get sun and rain on the track in different sections at the same time. So what better place for the Pinlock to be born!?
The Pinlock is essentially a separate piece of plastic you clip to your existing visor to create a double glazing effect. Made from a unique material, the Pinlock is hydrophilic (it absorbs moisture). Thanks to this innovative design, moisture from your body heat or breath doesn't rest on the surface so condensation can't form. To stop any moisture or air getting in between the visor and the Pinlock, a silicon seal acts as a barrier keeping everything out. Using a simple slit at each side, you can connect a Pinlock to any visor which is Pinlock ready (little pins on a helmet's visor).
Buying a Pinlock Visor Insert
When you buy a helmet, the specification should tell you the lid is "Pinlock ready" which means you can buy a Pinlock to fit. Other helmets may come with one already included. Not all helmets are Pinlock ready, so if you are worried about fogging, it's worth looking for this feature before you buy. If you're shopping online, most motorcycle gear online retailers do advise which insert is compatible with your lid but make sure you check before you buy.
Also, Pinlock inserts offer different levels of performance, colours and designs. Currently, you can buy Pinlock 30 (minimum spec), Pinlock 70 (mid-range), Pinlock 120 (suitable for racers or adventure riders) and Pinlock Evo (a name given to Shoei spec Pinlocks). The higher the number, the more absorbent the surface which makes it less likely it will begin to mist.
If you need to, you can buy tinted, coloured or "Max Vision" which are slightly larger and give you more view without the edge of the Pinlock in your vision.

Fitting a Pinlock System
Installing a Pinlock Visor System is relatively straightforward once you know what you're doing. Here is a step by step guide:
Remove your visor from your helmet. Different makes have different mechanisms, so if you aren't sure how always check before you do this step.
Taking the Pinlock System, pull back the edge of the protecting film on each side. This makes it easier to remove at a later stage thoroughly.
Using a microfibre cloth, wipe your helmet's visor to remove any dust or fingerprints.
Take a helmet doughnut (or cushion) and rest your helmet's visor in a U shape.
Take the Pinlock System and check which edge has the silicon seal. This side must face down into your visor.
Position the Pinlock into place then insert the pin on your visor into the Pinlock slit. Repeat on the other side.
Check your Pinlock is in place by breathing on it and checking for condensation or gently running a piece of paper around the edge. If it can't enter the Pinlock, it's fully sealed.
Once fitted securely, remove the protective film.
If your Pinlock isn't sealed:
You may need to adjust the pins if your Pinlock is not sitting correctly. Firmly push the pins in your helmet's visor out. Notice the pin has two sides. One side will have a longer distance to the middle of the pin than the other. You can turn the pin around and refit the Pinlock System following the above steps, creating a better seal.
Like all good ideas, there are a lot of copycats or "universal" options available for a lower price. Like all knockoffs, they don't fair that well so it isn't worth spending your money on them. In our opinion, choose an excellent performance Pinlock (70 or 120) and never look back.

Other Anti Fog Solutions
Pinlock is one of the best systems out there but if your helmet doesn't have Pinlock posts or if you just don't fancy using one, there are other solutions, quite literally.
You could try this Muc Off Anti Fog spray which you add to the inside of your visor. Another well-known trick it is to get a tiny drop of Fairy liquid, add it to a damp cloth or piece of kitchen roll and wide the inside of your visor and clean off any residue.
You can also fit a breathguard to some helmets, wear a breath-mask or just run your neck tue over your mouth to reduce the amount of condensation that hits the visor. None of these methods are faultless but they will reduce the amount your visor mists up.