The SHARP helmet comparison site
Only SHARP-rated helmets are on this comparison site. We have gathered real-world owner reviews and video guides for each helmet to help you find the right lid for your needs. Each helmet listing also has a live price comparison to help you find the cheapest price.

We Compare Prices To Save You Money
We fetch prices from the following retailers, to help you get the best deal
Browse Your Favourite Brand
What Is The SHARP Helmet Safety Scheme?
SHARP stands for the Safety Helmet Assessment and Rating Programme and it's a scheme funded by the UK Government. Its aim is to reduce motorcyclist casualties by helping bikers make a more informed choice when they purchase a new helmet.
Any helmet that meets the ECE 22.05 or ECE 22.06 standard is road legal in the UK. SHARP takes these tests up a level. They use more demanding impact tests, to give a helmet a SHARP rating, so you can see the helmets that pass the ECE tests and the ones that exceed it.
Motorcycle Helmet Types Explained
Full Face
Flip Up
Adventure
Open Face
This is the helmet that most people think of when they think of a biker. It offers maximum coverage and arguably the best protection.
If you've ever watched any motorcycle racing on the TV, you'll see that the riders don't wear anything else. Full face helmets are the most popular type because they're the best choice for a wide variety of bikers.
The enclosed design not only offers the best level of protection in the event of a crash but it also keeps the elements out far better than an open face helmet. The aerodynamic design means that wind buffeting is less of an issue and wind noise is kept to a minimum too. That's not to say things can't get a little loud inside a full face helmet – they most certainly can, which is why you'll want to invest in a pair of earplugs too.
Most full-face helmets come with a lot of additional features. You'll be able to remove and replace the interior (to keep it smelling and feeling fresh), some have removable cheek pads too which come in different sizes, allowing you to get the best fit. They can also feature drop-down sun visors, air vents, breath guards, quick release visors and Bluetooth compatibility meaning you can take calls or listen to music on the go.
Some bikers don't like full face helmets as they feel restricted in them or they want to feel the wind in their hair. If you want to look like your favourite bike racer, you can probably find a helmet with their paint scheme on it. This is known as a 'race replica' but it's likely to be that brand's top of the range lid, so it won't be the cheapest one you can buy.
If you like the idea of having the protection of a Full Face helmet but the wind-in-your-hair feeling of an Open Face then a Flip Front is just for you.
Essentially they are very similar to a Full Face helmet but the chin bar is hinged, which means you can unlock it at the flick of a button and raise it up. In the US they are commonly known as a Modular helmet but over in Europe, Flip is the more common terminology. They're very popular with bikers who like touring and increasingly popular with commuters. They mean you don't have to remove your helmet when filling up with petrol or grabbing a quick drink.
If your helmet has dual homologation it's rated as safe to wear in the closed and open positions, meaning you can enjoy a few flies in your teeth when you're out on the road. Some helmets that aren't dual rated are actually hard to wear while riding at any kind of speed as the raised chin bar acts as a sail, catching the wind and moving your head around.
Not many have been tested by SHARP but any you buy in the UK should still be ECE 22.05 rated. A flip helmet tends to be heavier than their Full Face counterparts and sometimes noisier too, due to the slightly less aerodynamic shape required to incorporate the hinge mechanism. You'll find a lot of flip helmets feature an internal drop-down sun visor, meaning if you do ride with the chin bar up your eyes are protected and even with the chin bar down the sun visor helps protect against the sun's glare. As riders opt for Flip Front helmets in greater numbers, more and more brands are producing them, which is adding more innovation to this sector of the motorcycle helmet market.
SHARP don't currently test Adventure helmets, although there is no reason why they couldn't pass.
There are a couple of helmets on the market that have a SHARP rating and an 'Adventure-style' but they are not proper Adventure helmets.
An Adventure helmet (sometimes referred to as a Dual Sport helmet) is a blend of a Full Face helmet and some aspects of a Motocross helmet.
Adventure bike riders like them for a number of reasons but the biggest one is that they look the part when you're riding an Adventure motorcycle. They also have a large aperture meaning you get more visibility than most regular Full Face helmets. They're far heavier than an MX helmet but you don't require goggles to wear them. Plus, most MX helmets won't be road legal.
Most of the high-end Adventure helmets feature a removable peak, many have a drop-down internal sun visor too and some are designed so that you can wear them with goggles (they feature a retaining clasp to hold onto your goggles so the elastic doesn't ride up and pop off the top of your helmet).
From the top down profile you'll notice an Adventure helmet has a much more V-shaped front, as opposed to the rounded front of a Full Face. This shape and the peak can mean you get a fair bit of buffeting, wind deflection and noise when riding at a higher speed. If you do a lifesaver at 70mph you might find it hard to get your head back as the wind grabs it. If you ride an Adventure bike but spend most of your time on fast roads, you might want to choose one with a removable peak or just grab a Full Face instead.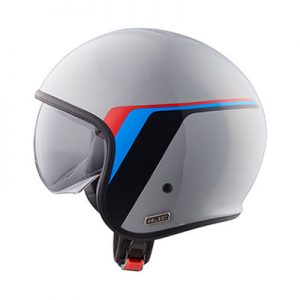 SHARP don't currently test Open Face motorcycle helmets but there is no reason that one couldn't pass.
SHARP don't test the chin bar area so even though this is missing from an Open Face, it wouldn't affect the result. However due to the reduced rigidity of an Open Face helmet when compared to a Full Face, it may not score as well.
It's worth mentioning that all Open Face motorcycle helmets sold in the UK will meet the ECE 22.05 standard, meaning they already pass the same test any helmet has to pass in order to be road lega.
The world of open face helmets is a broad one. It covers everything from very basic helmets that you might associate with Harley riders (they sort of look like you're wearing a colander), to retro helmets (the ones that make you look like you're about to be fired out of a canon), to the more modern scooter helmets, that look like a Full Face helmet but with the chin bar removed (and often with a longer visor, too).
People like them as they offer the best vision of any helmet (partly due to the lack of, er, helmet) and they also give you that free-riding wind-in-your-hair feeling.
They don't offer anywhere near the same amount of crash protection as a Full Face helmet and while they will be subject to ECE 22.05 approval none will meet SHARP testing requirements and therefore you won't see SHARP ratings for open face helmets.
While they are basic in design and offer less protection some of the more urban-focused helmets have all the bells and whistles, including removable linings, internal sun visors and Bluetooth-ready capability. If you're regularly riding at more than 60mph you might want to go for a Flip Up helmet instead and wear it open around town and closed on the faster roads but if you are a man (or woman) about town on a Maxi Scooter or similar, an Open Face could be the way to go. They're easier to carry, easier to store on the bike and they still offer lots of protection.
Latest SHARP Rated Helmets